I have a friend who doesn't believe there's any such thing as an introvert. Obviously she isn't one. She probably doesn't believe in dragons either, but that's okay. She's a good friend. She's very…practical. Me, I know introverts exist. I am one.
I've heard people describe themselves as a swashbuckling introvert, which I must admit appeals to me no end. I had a long chat with a cousin recently, all about our grandparents. I think we were both a little stunned afterwards. She told me stuff about them I never knew; my grandmother was tough and my grandfather was as soft as marshmallow. I would have taken an oath it was the other way around. And here's the bizarre thing, I'd lived with the old folks for a year as a child. It was one of the best years of my life…and yet I seemed to have been oblivious.
Looking back, and not even that far, I've come to realise that being oblivious seems to sum up most of my life. Certainly my childhood. I can recall books I'd read, dreams I'd had – always in technicolour detail and always involving me being a heroine of some description, which explains the allure of 'swashbuckling '. I remember those times when I either had no clue what was going on, usually maths class, or was desperately hoping the floor would open up and swallow me, and I'd retreat gratefully into a familiar daydream. I can recall in vivid detail the way the fibres twisted in the lounge carpet of our family home, looks on people's faces, moments in time that are so vivid even now I can smell them. I remember the mangoes my brother and I were eating in the empty bath so we wouldn't leave sticky puddles on the parquet flooring or fingerprints on the highly polished furniture in my grandparent's apartment. No one else remembers that apartment, let alone the mangoes.
Wanting to be 'normal' and fit in, but having no idea how to achieve that, was an ache that has lasted for most of my life. There were those sparks in time that hinted at my future. Moments when I could have danced on the roof with delight. Moments that somehow, even as they happened, were slapped down by those who should have been blowing on the ember. Is it any wonder I retreated more and more into life inside my skull?
Then, one day, I did a writing course. We had various exercises to do and I tried out bits of one of my favourite daydreams. For years I'd had one particular scene replay over and over in my mind. Now, as I wrote, I discovered how easy it was to slip into the world I was creating in ink. And I loved it. Here, I was at home. Here, I could be anyone I wanted and it was not only alright, but good. So good in fact the lecturer pulled me aside one day and told me to write the book. The ink mattered. Somehow, the daydream had become legitimate and it was the ink that did it.
Four months later, I sent my first manuscript to an editor. She was impressed and loved my story. I felt as if I'd come home. And perhaps I had. All those slivers of overwhelming internal agony, all the memories no one else in the family had, all the flights of imagination which garnered nothing but odd looks from those I thought understood but clearly didn't, all those frozen moments of humiliation, all that hiding away
–
was now the rich ink into which I could dip my pen. I also discovered that writing those moments into my stories seem to drain them out of my soul, out of my heart and out through my fingers. I could almost feel them leaving my skin. The ink trapped them onto the page and they no longer had any power over me. I finally controlled them. And once they were down, I discovered real life had somehow become more navigable. It now had purpose. All those experiences, daydreams, the roiling imagination, they were
–
they are
–
important because although I'm still an introvert; I'll probably always be one, now I am something else, something that finally makes sense.
Now, I am a writer. And I can conjure dragons any time I want.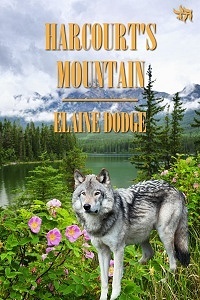 Spring, 1867
The western frontier of British Columbia hardly seems a likely place for romance. Filthy, terrified and confused, Hope Booker is waiting to be sold off the 'bride' ship. Luke Harcourt happens upon the sale. It's not love at first sight, but he feels compelled to save her from a life of slavery and prostitution. To allay her fears of being raped by him, Luke promises never to touch her. Being a man of his word, this is a pledge he quickly finds almost impossible to keep.
Battling their growing attraction to each other, they must learn to live together in the forests of the wild and almost unexplored mountains. They face white water, Indians, wolves, as well as a dangerous man from Hope's past.
No longer able to deny their feelings, their 'happy-ever-after' is shattered when a corrupt land baron forces Luke's hand. Enraged at the man's actions, Luke rides into town—and disappears.
Alone and pregnant, Hope faces the prospect of the worst winter in ten years. The trauma of fighting off a hungry grizzly brings on labor, but the baby is stuck. Luke meanwhile wakes up on a ship bound for South America, captained by a revengeful sadist who plans to murder him. Luke's chances of survival are slim. Can he stay alive and make it back to Hope in time?
Author Bio
I was born in Zambia, grew up in Zimbabwe and am currently living in South Africa. I say currently because I did my first round-the-world trip when I was four years old. So who knows where I'll end up! I trained as a designer and worked in that field for a number of years, even running my own company. A long stint in advertising followed. In the last few years I've been toiling away in the TV industry, winning an odd international award. Writing was an aspect of each part of my career. But I realised this wasn't enough. I love "telling stories". I'm passionate about it, so in November 2011 I decided to "wrestle the Rottweiler" and put those stories on paper. I feel most alive when I'm writing and delight in letting my imagination run riot.
My author website link is: www.elainedodge.weebly.com
My Author FB page is:
https://www.facebook.com/pages/Elaine-Dodge/422105531221691?fref=ts