Have you noticed a growing trend in historical fiction these days? It seems as if many more professional historians as well as writers with advanced degrees are plunging into this genre, often funded by the universities where they teach. I graduated Cum Laude in Russian history but never pursued an advanced degree; I was tired of assigned readings and having to write essays. I wanted to read whatever I liked, namely history, fiction, and historical fiction. Drama! Mystery! Excitement! I'm also a professional historian. My history books for children won several awards, and before that I wrote historical educational filmstrips for schools that were used for two decades until the technology changed. So I welcome great writing that is historically accurate.
I think of someone like Professor Barbara Mertz, aka Elizabeth Peters, and I am so grateful to her. Her hilarious novels, set during the late 19th and early 20th centuries, taught me about Egypt, ancient and modern, and about how the field of archeology developed. They were sendups of the mystery romance, and I still laugh myself silly when I read them.
What about today's new generation of expert writers? Many of them really add solid research to their work in just the same way that Ms. Mertz/Peters did, and I devour their novels with delight. After all, historical fiction can be a great way to make history come alive. However, more than solid research is required, and an advanced degree is no guarantee of that. I tried reading one historical novel by someone with a PhD who had a character using a spinning wheel seven hundred years before they were invented! I was so disappointed. Now I couldn't trust the author. And, not to pick on this poor person, I wished the writing hadn't been so modern. I wanted to feel that the language reflected the times.
So now you know my two pet peeves, anachronisms both in the writing style and the research, and I apologize for going on about them. But it seems to me that we lovers of historical fiction have a reason for our passion: we love history and we also love a good story. In a good novel, both work in harmony. We readers want to set down a finished novel and feel like we have gone on a journey, made new friends, learned about places that no longer exist, and stretched our minds to understand a world vastly different from our own. The writing carried us along with a stirring plot, great storytelling, and writing that brought that long-gone world to life.
All of which to say, welcome to the professionals who do all that, but there is still plenty of room for those of us without advanced degrees to tell a story that grips the reader. After all, good research is only a library book away.
Rebecca Hazell is the author of a (carefully researched and fully plotted) historical trilogy set in the turbulent 13th century, a time people might like to forget—think Mongol invasions, the Crusades, and the early Inquisition. But it was also a time that shaped our present as no other era did. The trilogy tells the story of a young woman whose quest is for love but who finds much more along the way. Hazell's nonfiction books for children are now out of print but are still available in libraries across North America.
The Grip of God (Book One) *****GIVEAWAY*****
The Grip of God is the first novel in an epic historical trilogy, The Tiger and the Dove. Set in the thirteenth century, its heroine, Sofia, is a young princess of Kievan Rus. She begins her story by recounting her capture in battle and life of slavery to a young army captain in the Mongol armies that are flooding Europe. Not only is her life shattered, it is threatened by the bitter rivalries in her new master's powerful family, and shadowed by the leader of the Mongol invasion, Batu Khan, Genghis Khan's grandson. How will she learn to survive in a world of total war, much less rediscover the love she once took for granted? Always seeking to escape and menaced by outer enemies and inner turmoil, where can she find safe haven even if she can break free? Clear eyed and intelligent, Sofia could be a character from The Game of Thrones, but she refuses to believe that life is solely about the strong dominating the weak or about taking endless revenge. Her story is based on actual historical events, which haunt her destiny. Like an intelligent Forrest Gump, she reflects her times. But as she matures, she learns to reflect on them as well, and to transcend their fetters. In doing so, she recreates a lost era for us, her readers.
*If you'd like to win a Kindle edition of this title, please leave a comment on this post with your email address. Winners will have 48 hours to reply to my email. If I receive no reply in 48 hours, I will choose a new winner. Giveaway will end May 12th at my convenience.*
Solomon's Bride (Book Two)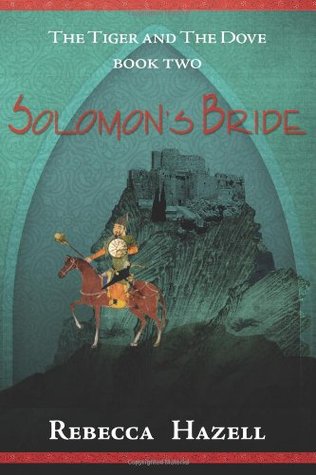 Solomon's Bride is the dramatic sequel to The Grip of God. Sofia, the heroine, a former princess from Kievan Rus' was enslaved by a Mongol nobleman and then taken as a concubine by the leader of the Mongol invasions, Batu Khan, grandson of Genghis Khan. Now, having fled the Mongols with a price on her head, Sofia escapes into Persia and what she believes will be safety, only to fall into the clutches of the Assassins, who seek to disrupt the Mongol empire. In a world at war, both outer and inner, the second phase of her adventures unfolds. Can she ever find safe haven, much less the lost love and family that was almost destroyed by the Mongols?
Consolamentum (Book Three)
In the finale of Sofia's memoir, Consolamentum, both dramatic and poignant, her dreams of home are shattered when her own family betrays her. Raising her child on her own, mourning the loss of her beloved knight, and building a trading empire, she seeks safe haven for her child and herself. Her quest takes her from Antioch to Constantinople to Venice. A surprise reunion in Venice leads her to France where she runs afoul of the newly established Holy Inquisition, possibly the greatest challenge she has yet faced. Can a woman so marked by oppression, betrayal, and danger ever find her safe haven, much less genuine happiness?
Rebecca Hazell is a an award winning artist, author and educator. She has written, illustrated and published four non-fiction children's books, created best selling educational filmstrips, designed educational craft kits for children and even created award winning needlepoint canvases. She is a senior teacher in the Shambhala Buddhist lineage, and she holds an honours BA from the University of California at Santa Cruz in Russian and Chinese history.
Rebecca lived for many years in the San Francisco Bay Area. In 1988 she and her family moved to Halifax, Nova Scotia, and in 2006 she and her husband moved to Vancouver Island. They live near their two adult children in the beautiful Cowichan Valley.