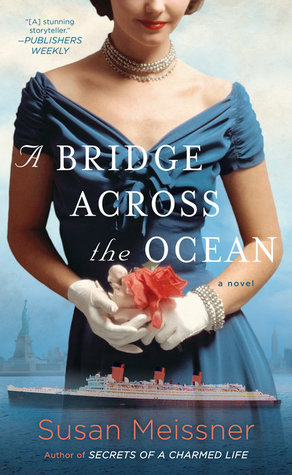 A wonderful story...or stories, I should say. The Queen Mary is def going on my bucket list. The ship went from being a luxurious ocean liner to a troop carrier called the Gray Ghost to a war bride transport.... What a boat! The author touches on each with class and vivid detail. I was entranced.
The modern story follows a young woman with a gift she didn't want--the ability to see ghosts, hear them, be stalked by them at times. She buries this ability, treats it like a DISability for most of her life, but a friend from her past asks her for help and before she knows it, Brette is embroiled in a mystery from post-WWII. Did Annaleise jump or was she pushed? There's a war bride on the ship who isn't really a war bride. What's her story? Will we sympathize or...?
And it slowly unfolds in between chapters of the modern-day tale.
Each heroine is unique. There's no confusing any of the women in the past or the present. This makes the time changing easy to follow. Each woman has a tale to tell--except Phoebe. And that is my only complaint. Though mentioned throughout the tale and though she is actually just as important as Simone in a way, there's nothing about her before she became a war bride. Simone and Katrine, however, we get their entire backstories. And while I respect maybe Pheobe's wouldn't have been as interesting, that lack of her story made it too obvious she wasn't going to be a huge part of the mystery and that made the tale less suspenseful. It was like halfway through, I knew Pheobe was not going to be relevant. It took away some element of surprise.
I loved the writing, the history of the ship, the morals about both forgiveness and "If you don't ask or want to know, nobody is going to tell you or help you.."
I received an ARC on Amazon Vine.