Both Shomeret and I have our eyes on this one due to our interest in the Night Witches,
The Witch of Stalingrad
by Justine Saracen.
As the German Blitzkrieg brings the Soviet Union to its knees in 1942, a regiment of women aviators flies out at night in flimsy aircraft without parachutes or radios to harass the Wehrmacht troops. The Germans call them "Night Witches" and the best of them is Lilya Drachenko. From the other end of the world, photojournalist Alex Preston arrives to "get the story" for the American press and witnesses sacrifice, hardship, and desperate courage among the Soviet women that is foreign to her. So also are their politics. While the conservative journalist and the communist Lilya clash politically, Stalingrad, the most savage battle of the 20th century, brings them together, until enemy capture and the lethal Russian winter tears them apart again.
***
I spotted this on Edelweiss: Madame President by Nicolle Wallace, and of course the title nabbed my attention. It is however, the third in a series so I've immediately acquired book one.
With Madam President, current cohost of The View and former White House Communications Director Nicolle Wallace returns with an electrifying portrait of three powerful women on a day that will change the country forever.
Charlotte Kramer, the forty-fifth President of the United States, has done the unprecedented in allowing a network news team to document a day in her life—and that of her most senior staff. But while twenty news cameras are embedded with the president, the unthinkable happens: five major attacks are leveled on US soil. Her secretary of defense, Melanie, and her press secretary, Dale, must instantly jump to action in supporting the president and reassuring the country that the safety they treasure is in capable hands.
But secrets have always thrived in President Kramer's White House. With all eyes on them and America's stability on the line, all three women are hiding personal and professional secrets that could rock the West Wing to its very foundations…and change the lives of the people they love most.
With an insider's sharp eye and her trademark winning prose, Nicolle Wallace delivers a timely novel of domestic and political intrigue that is impossible to put down.
***
And as I said, having only learned of the series when I saw book three listed, I immediately ordered book one,
Eighteen Acres
.
From the former Communications Director for the White House and current political media strategist comes a suspenseful and smart commercial novel about the first female president and all dramas and deceptions she faces both in politics and in love.
Eighteen Acres, a description used by political insiders when referring to the White House complex, follows the first female President of the United States, Charlotte Kramer, and her staff as they take on dangerous threats from abroad and within her very own cabinet.
Charlotte Kramer, the 45th US President, Melanie Kingston, the White House chief of staff, and Dale Smith, a White House correspondent for one of the networks are all working tirelessly on Charlotte's campaign for re-election. At the very moment when they should have been securing success, though, Kramer's White House implodes under rumors of her husband's infidelity and grave errors of judgment on the part of her closest national security advisor. In an upheaval that threatens not only the presidency, but the safety of the American people, Charlotte must fight to regain her footing and protect the the country she has given her life to serving.
Eighteen Acres combines political and family drama into one un-put-downable novel. It is a smart, juicy and fast-paced read that we're sure fans of commercial women's fiction will fall in total love with.
***
Secrets of the Tower by Debbie Rix
sounds awesome. Saw it on Netgalley.
Two women, centuries apart, bound together by the secrets of one of the most iconic buildings ever created.
Pisa, 1999
Sam Campbell sits by her husband's hospital bed. Far from home and her children, she must care for Michael who is recovering from a stroke. A man she loves deeply. A man who has been unfaithful to her.
Alone and in need of distraction, Sam decides to pick up Michael's research into the Leaning Tower of Pisa. Immersing herself in the ancient city, she begins to piece together the mystery behind the creation of the tower, and discovers the woman who history forgot…
Pisa, 1171
Berta di Bernardo, the wife of a rich merchant, sits in her chamber, dressing for a dinner party. A gathering that will change the course of her life and a young master mason, Gerardo, forever.
A strong, intelligent woman, Berta's passion for architecture also draws her closer to Gerardo. As she embarks on a love affair, her maid Aurelia also becomes spellbound by the same man. Yet for Berta, her heart's desire is to see the Tower built, and her determination knows no bounds…
***
Five Brides by Eva Marie Everson
is on my wishlist after spotting it on Edelweiss because I love me a good fifties' tale and vintage dresses...oh yea.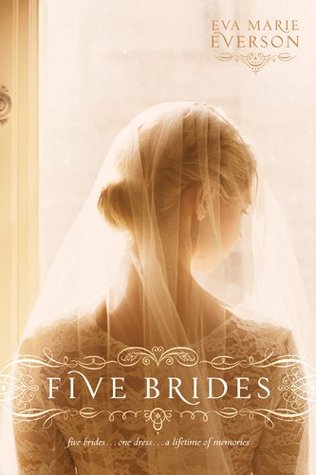 One dress, five women, a lifetime of memories.
Five single, fiercely independent women live together in a Chicago apartment in the early 1950s but rarely see one another. One Saturday afternoon, as they are serendipitously together downtown, they spy a wedding dress in a storefront window at the famous Carson, Pirie, Scott & Co. After trying it on—much to the dismay of the salesclerk and without a single boyfriend or date between the five of them—they decide to pool their money to purchase it. Can one dress forever connect five women who live together only a short time before taking their own journeys to love and whatever comes happily ever after?
***
The Race for Paris by Meg Waite Clayton
hit the list. It was spotted on Edelweiss. Check out this smashing cover.
The New York Times bestselling author of The Wednesday Sisters returns with a moving and powerfully dynamic World War II novel about two American journalists and an Englishman, who together race the Allies to Occupied Paris for the scoop of their lives.
Normandy, 1944. To cover the fighting in France, Jane, a reporter for the Nashville Banner, and Liv, an Associated Press photographer, have already had to endure enormous danger and frustrating obstacles—including strict military regulations limiting what women correspondents can. Even so, Liv wants more.
Encouraged by her husband, the editor of a New York newspaper, she's determined to be the first photographer to reach Paris with the Allies, and capture its freedom from the Nazis.
However, her Commanding Officer has other ideas about the role of women in the press corps. To fulfill her ambitions, Liv must go AWOL. She persuades Jane to join her, and the two women find a guardian angel in Fletcher, a British military photographer who reluctantly agrees to escort them. As they race for Paris across the perilous French countryside, Liv, Jane, and Fletcher forge an indelible emotional bond that will transform them and reverberate long after the war is over.
Based on daring, real-life female reporters on the front lines of history like Margaret Bourke-White, Lee Miller, and Martha Gellhorn—and with cameos by other famous faces of the time—The Race for Paris is an absorbing, atmospheric saga full of drama, adventure, and passion. Combining riveting storytelling with expert literary craftsmanship and thorough research, Meg Waite Clayton crafts a compelling, resonant read.