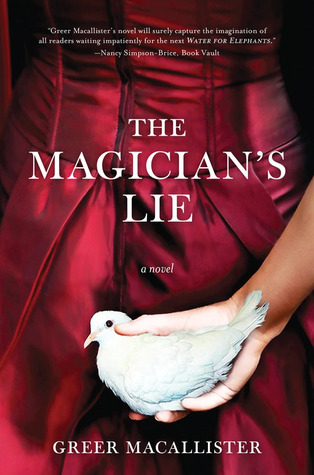 This is a very unique historical novel, a historical story tying a woman's determination to be free, independent, and strong with a dark edging: a craved stalker equally determined to do her harm. And yet at the same time we follow the life of a lady magician--quite possibly what could be the first lady magician in American history. And the first is not the heroine of the story, but her mentor.
The style itself is great too, going back and forth effortlessly between 1905 when the heroine is arrested and accused of murder back to her younger days as she sits there and tells the sheriff her story...but her tale doesn't come across as TELLING. She tells her story in a way that sucks the reader into the tale, enables the reader to visualize everything.
I really, really enjoyed the period in which Arden first joins the magic show, when her mentor was the boss and Arden was learning everything. Perhaps this is because as Arden says later in the story, this was the happiest time of her life...and I guess it really comes off that way.
When Arden takes over the show, the story lost something for me. I can't pinpoint what it was...but I absolutely loved the changes she made to the show: the suffragette themes she subtly added: the women picking up the chest when men can't; the coins transferring from a husband's pocket to his wife's purse; the sawing of a man in half, not a woman.
There's also a paranormal twist involving healing and I mentioned above...a crazed stalker.
I didn't enjoy that bit so much. It's necessary to the story, but the whole Ray thing was weird and creepy. However, that's not a complaint so much as a point in the author's favor. I literally felt this guy's creepiness and feared him as much as Arden did. That made the book extremely suspenseful for me.
This one is worth the historical reader's time. Pick it up if you get the chance.
I received this via Amazon Vine.