Today I have Choc Lit's Linda Mitchelmore stopping by for a visit. Last year, I read and reviewed her first book in this series. Myself and a few others have compared this lady's writing to the late, great Catherine Cookson, so I had a relevant question for her.
Book Babe: Your novels have been compared to Catherine Cookson. I'd love to know if you've ever read a Cookson book and which one was your favorite. (I'm a Cookson fan.)
Linda: It came as a huge shock to me to find my writing compared to Catherine Cookson's – I mean, who hasn't heard of her? Such a massive compliment. So thank you to the book reviewer who penned that accolade to me. But I most certainly haven't tried – or even thought about it – to pick up Catherine Cookson's gauntlet by writing TO TURN FULL CIRCLE and now EMMA: There's No Turning Back. I have only read one Catherine Cookson novel in my life – Tilly Trotter. It must have made an impression on me, though, because I instantly recalled the title when asked if I had ever read any of her work! I have, however, read many articles about her and her life and I can see that her own struggles informed her writing. Is that the same of me? My only struggle in life has been my deafness (through viral damage – I was born with hearing – when I was in my thirties) so it probably wouldn't take a degree in psychology to work out that that struggle would surface in fiction some day. I remember that Catherine Cookson was awarded an OBE (in 1985) and was unable to be part of the group ceremony at Buckingham Palace, so Prince Charles gave her a private audience....that really rather touched me, how special she was. So to be considered to hold even the most weak of flickery-flamed candles to her is an honour.
Book Babe: For those who may not have heard of her, she is like the queen of English drama. Her books take you the past, to historical soap operas about women facing real-life issues. She wrote drama, suspense, and comedy. I have numerous titles by her on my shelf. Highly recommend Feathers in the Fire and The Mary Ann Novels. Find out more.
Is there going to be a book three?
Linda:

Yes, there is going to be a third book in Emma's story. It is tentatively called, EMMA AND HER DAUGHTER.....but which daughter are we talking about? Hmm....there's a carrot for you all....
It isn't easy to look forward when the past is so close behind you.
Life hasn't always been kind to Emma Le Goff. She has had her fair share of hardship and now finally, her life appears to be looking up. She and her childhood sweetheart, Seth Jago, are set to marry and both believe that an idyllic existence, free from heartache, awaits them.
However, when they discover that the past is more difficult to forget than they could have ever imagined, Emma continues to be haunted by the mysterious circumstances surrounding her family, and Seth is hounded by a jealous ex-lover set on revenge.
Seth plans for their escape to Canada, but when the charismatic Matthew Caunter returns to Devon, Emma finds herself uncertain of whether a move to Canada is really what she wants …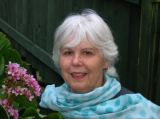 Linda has lived in Devon, England all her life where the wonderful scenery and history give her endless ideas for short stories and novels. She has worked in a bank and for a pharmaceutical company but gave up the latter to concentrate on her writing.
Married to Roger for over 40 years and is now a proud grandmother. Linda loves gardening, walking, cycling and riding pillion on her husband's vintage motorbikes.
Linda's novels include: To Turn Full Circle and Emma - There's No Turning Back (Jan 2014) plus ebook novellas on Kindle - Hope for Hannah and Grand Designs.
Where to find Linda Mitchelmore online:
Website: http://www.choc-lit.com/html/linda_mitchelmore.html
Twitter: @lindamitchelmor
Facebook: Facebook profile
Blog: http://blog.choc-lit.co.uk/
To Turn Full Circle is only 99 cents right now. (Amazon)
Emma is now available.