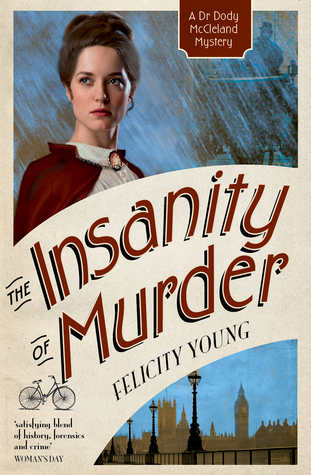 Dr. Dody is back, and better than ever. While this novel doesn't explore too deeply the prejudice she faces in her line of work (she's a death doctor in Victorian England for those just now hearing about this series), it does explore a different kind of prejudice toward women during those times. There's an epidemic sweeping the country. Women are being declared insane and thrown into institutions where horrific surgeries are performed on them.
Dody's sister Florence plays a huge role in this novel as circumstances lead to her being incarcerated on the inside. Behind the scenes is Dody with her breaking and entering, Pike ready to acquire search warrants, suffragists running in front of the king's horse (real event included in the story), and doctors will ill intentions.
And that's not all. More drama ensues with the maid's beau, tensions rise at police headquarters, and Violet, Pike's daughter, shows a headstrong side. Dody and Pike continue their romance nevertheless, but it appears their secret is no longer a secret and women did not take lovers and maintain careers both back then. So there's a lot of tension in this story. And did I mention female genital mutilation? Talk about frightening.
I really enjoyed it, but feel the really intriguing stuff, such as Florence going "undercover" and the midnight breaking and entering, came a little too late. Everything really got exciting in the last half, making the first half feel a tad slow. Florence also irritated me in the first half with her refusal to take responsibility for her actions and I was displeased with Dody too for going along and not doing the right thing. But it also made me wonder, "What if it was my sister?" I appreciate the story line for making one think.
I look forward to the next installment in this series. Please keep them coming. Lots of strong women, tension, "what would you do?" scenarios, and history. (Women being incarcerated simply for husbands' and fathers' conveniences was a real problem.)
Thank you to Netgalley for a digital copy of this.