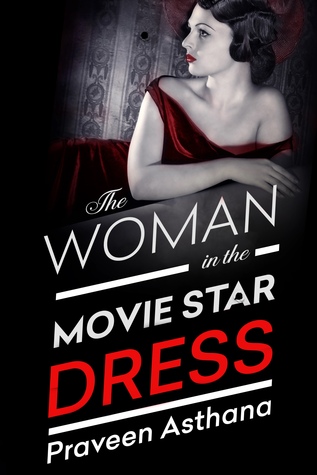 The blurb for this title talks a lot about a mysterious red movie star dress.
"One day her fears become crystallized—intrigued by a man who comes asking about a beautiful scarlet dress she has recently sold, she looks into its history and discovers a secret that terrifies her. So begins a quest to find the scarlet dress complicated by a budding romance and the threads of her past, which intervene like trip wires. Emotions run high, and in the background the quickening drumbeat of the race to find the scarlet dress, potent as a loose, loaded weapon."
I rarely do this, but this book warrants it. I'm posting a one-bike review. Why? Because at 57% the red dress had only been in maybe three or four short scenes. There's next to nothing about it. It's like 5% of the book/story. I feel teased. The red dress appears in one scene of the past. Then it appears in the store. There are hints that a woman wore it who was murdered...and some modern-day unhappy wife buys it. The rest of the story follows the heroine as she does drugs, drinks, and becomes promiscuous, having sex with random men.
Where is the mystery? The cover screams noir, intrigue. I expected a bit more about this dress and its previous wearer. I was expecting perhaps a time slip. I was not expecting what I got. I'm all for a woman "getting some", but this woman isn't even enjoying the sex she has with these random men. It's more like she needs them to want her to feel worthy of herself. It's not the kind of heroine I like to promote on the blog, let alone read about.
I didn't mind the writing style, even though it was a bit overly simple. The story itself was just a bummer for me, especially the heroine. I recommend a different cover and blurb for this story. There is no mystery. There is no romance either. It's just sex. And there isn't even any detail about her sexual escapades, so it's not erotic either.
Thank you to Netgalley for letting me read this.