Let's see what came across our radar these last two weeks and made it on the ever-growing TBR and wishlist...
First up, an Australian author. I'm (Tara) hoping it will be on Amazon US. Liberty Silk by Kate Beaufoy. Gorgeous cover, interesting premise.

A sumptuous summer read starring three inspiring women from three vibrant eras.
One beautiful dress is the key to three brave women's destinies.

France 1919: Jessie is celebrating the last heady days of her honeymoon. But when her husband suddenly disappears she finds herself bereft. Until a chance encounter thrusts her into the centre of the intoxicating world of Parisian high life.

Hollywood 1945: Lisa has come a long way from her quiet, unassuming life in London and is taking Hollywood by storm. But all that glitters is not gold, and as the smoke and mirrors of the lifestyle she so longed for shatter around her there are some secrets she can never escape.

London 1960: Cat, headstrong and independent, drawn to danger and passionately opposed to injustice, has no idea of the legacy that precedes her. Once past secrets are unveiled, she has the chance to find out what liberty really means... An evocative story of survival, betrayal and the invincibility of love.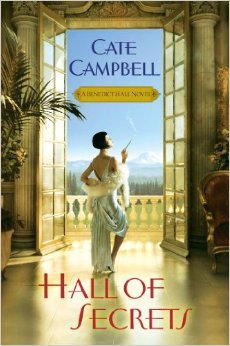 Because I'm enjoying the first book, Benedict Hall--it's got a lady doctor and an engineer for the newly formed Boeing factory--Hall of Secrets by Cate Campbell is on the wishlist now.

In Cate Campbell's sumptuously detailed, page-turning series set in 1920s Seattle, the once-secure lifestyle of the wealthy Benedict family--and their household staff--must contend with the radical, roaring Jazz Age. . .

For generations, the Benedicts have been one of Seattle's most distinguished families, residing in the splendid Queen Anne mansion known as Benedict Hall amid a host of loyal servants. But the dawn of the 1920s and the aftermath of the Great War have brought dramatic social conflict. Never has this been more apparent than when daughter Margot's thoroughly modern young cousin, Allison, comes to stay.

But Margot is also shocking many of Seattle's genteel citizens, and her engineer beau, by advocating birth control in her medical practice. For amid a tangle of blackmail, manipulation, and old enmities, the Benedicts stand to lose more than money--they may forfeit the very position and reputation that is their only tether to a rapidly changing world.
And Shomeret is wanting to read this one: Enchantress by Maggie Anton. It seems she's a fan of this author's works. I hope I got that right, Shomeret. :)
Fantastic tales of demons and the Evil Eye, magical incantations, and powerful attractions abound in Enchantress, a novel that weaves together Talmudic lore, ancient Jewish magic, and a timeless love story set in fourth-century Babylonia.

One of the most powerful practitioner of these mysterious arts is Rav Hisda's daughter, whose innate awareness allows her to possess the skills men lack. With her husband, Rava--whose arcane knowledge of the secret Torah enables him to create a "man" out of earth and to resurrect another rabbi from death--the two brave an evil sorceress, Ashmedai the Demon King, and even the Angel of Death in their quest to safeguard their people, even while putting their romance at risk.

The author of the acclaimed Rashi's Daughters series and the award-winningRav Hisda's Daughter: Apprentice has conjured literary magic in the land where "abracadabra" originated. Based on five years of research and populated with characters from the Talmud, Enchantress brings a pivotal era of Jewish and Christian history to life from the perspective of a courageous and passionate woman.