Thanks to Amy Johnson of Reading the Past, who left a comment on last week's Radar, I learned of this upcoming novel:
The Flying Circus by Susan Crandall
.
From the bestselling and award-winning author of Whistling Past the Graveyard comes an adventure tale about two daredevils and a farm boy who embark on the journey of a lifetime across America's heartland in the Roaring Twenties.
Set in the rapidly changing world of 1920s America, this is a story of three people from very different backgrounds: Henry "Schuler" Jefferson, son of German immigrants from Midwestern farm country; Cora Rose Haviland, a young woman of privilege whose family has lost their fortune; and Charles "Gil" Gilchrist, an emotionally damaged WWI veteran pilot. Set adrift by life-altering circumstances, they find themselves bound together by need and torn apart by blind obsessions and conflicting goals. Each one holds a secret that, if exposed, would destroy their friendship. But their journey of adventure and self-discovery has a price—and one of them won't be able to survive it.
As they crisscross the heartland, exploring the rapidly expanding role of aviation from barnstorming to bootlegging, from a flying circus to the dangerous sport of air racing, the three companions form a makeshift family. It's a one-of-a-kind family, with members as adventurous as they are vulnerable, and as fascinating as they are flawed. But whatever adventure—worldly or private—they find themselves on, they're guaranteed to be a family you won't forget.
***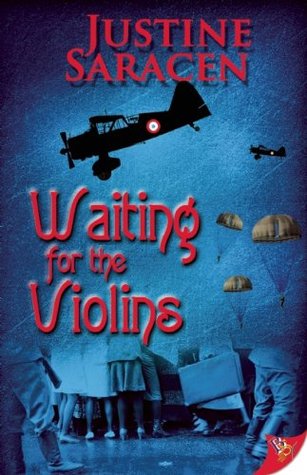 And because I loved her The Witch of Stalingrad so very much,
Justine Saracen's Waiting for the Violins
is on my wishlist.
Antonia Forrester, an English nurse, is nearly killed while trying to save soldiers fleeing at Dunkirk. Embittered, she returns to occupied Brussels as a British spy to foment resistance to the Nazis. She works with urban partisans who sabotage deportation efforts and execute collaborators, before résistante leader Sandrine Toussaint accepts her into the Comet Line, an operation to rescue downed Allied pilots.
After capture and then escape from a deportation train headed for Auschwitz, the women join the Maquis fighting in the Ardenne Forests. Passion is the glowing ember that warms them amidst the winter carnage until London radio transmits the news they've waited for. Huddled in the darkness, they hear the coded message, the "long sobs of the violins," signaling that the Allied Invasion is about to begin.
***
And there's no cover yet, but Shomeret got wind of an
illustrated book
releasing in 2016 about "Rejected Princesses". The
site
will tell you more than I can, but you can also follow the blog and read about different strong women in history.