It's crazy the different ways I discover books to read... I've said this before and I'll say it again. Twitter works. I found this upcoming novel while browsing all the people I've followed on twitter. Some of them I didn't know (I blame those giveaways that make you follow 5,000 people who never give you the time of the day. I don't bother anymore.) Some were authors whose tweets are just getting lost in a bunch of daily crap posted by those 5,000 people...etc. Apparently I've been following Jane Linfoot and when I looked at her profile, I discovered her upcoming title really appeals to me. Why? Because like the heroines in her book, I love vintage things, from clothes to movies.
So, on the radar this week is
The Vintage Cinema Club by Jane Linfoot
.
"A witty, warm-hearted romp through the lives and loves of four friends – with a cool retro vibe, and a sense of fun that will never go out of fashion." – Debbie Johnson, author of the best-selling 'Cold Feet At Christmas'.
Meet The Vintage Cinema Club….
Izzy is a wow at making unwanted things pretty, but with three brothers and her shabby chic furniture business to run she doesn't have time to date. Could a fabulous French proposal change her mind?
Single mum Luce's vintage bridal dresses are exquisite, but there's no way she's ever going to wear one or walk down the aisle for that matter. She's a strictly no romance, one night kind of woman – or so she thinks…
Ambitious Caitie came down in the world fast when her husband's business crashed. Only The Vintage Cinema Club, and Caitie's great eye for quality pieces, kept them afloat when they lost their home. But even though Bonkers, her beloved pet Lurcher, is great, he isn't cutting it as a child substitute and the sadness she felt before is starting to creep back in.
Dida seems to have it all – a chocolate and banana cake recipe to die for, lovely kids (most of the time!) and a great lifestyle. But what good is a fabulous home, when your marriage has more cracks than a pavlova and your husband is having it off with half of Lithuania?
Four retro fabulous friends, in love with all things vintage, run their dream business from the faded grandeur of a rescued cinema. When that dream comes under threat, they'll do whatever it takes to save it.
Fans of Lucy Diamond, Michele Gorman and Milly Johnson are going to love this heartfelt, funny story.
***
I spent last week reading and enjoying
Kate Quinn
's
Lady of the Eternal City
. I liked it so much, I went to look at her other titles. You may remember me reviewing
A Day of Fire
, an anthology that included a story by Ms. Quinn that featured a wonderful heroine named Diana. I discovered while browsing the blurbs that Diana is in
Daughters of Rome
, so of course, I must read that. It's been out a few years, but that doesn't mean it's not worth mentioning.
A.D. 69. Nero is dead.
The Roman Empire is up for the taking. With bloodshed spilling out of the palace and into the streets of Rome, chaos has become the status quo. The Year of Four Emperors will change everything—especially the lives of two sisters with a very personal stake in the outcome….
Elegant and ambitious, Cornelia embodies the essence of the perfect Roman wife. She lives to one day see her loyal husband as Emperor. Her sister, Marcella, is more withdrawn, content to witness history rather than make it. Even so, Marcella has her share of distinguished suitors, from a cutthroat contender for the throne to a politician's son who swears that someday he will be Emperor.
But when a bloody coup turns their world upside down, Cornelia and Marcella—along with their cousins, one a collector of husbands and lovers, the other a horse-mad beauty with no interest in romance—must maneuver carefully just to stay alive. As Cornelia tries to pick up the pieces of her shattered dreams, Marcella discovers a hidden talent for influencing the most powerful men in Rome. In the end, though, there can only be one Emperor … and one Empress.
***
The Real Cover
And Twitter worked again. I've been following
Ainslie Paton
. She
guested
on the blog a year or so ago. But as I said above, 5k (Okay, it was 900-something people) tweet and retweet and her tweets weren't getting seen by me, but I looked at her profile and spotted this awesome banner with her books done with entirely different covers than what they really have. Confession: I don't look twice at books with half-nekked men on the front. I don't. I just roll my eyes and move on, but the covers on her twitter profile made me look and as a result, I've added this one--
Unsuitable
--to the radar/wishlist. The premise is terrific. And because I loved it so much, I tweeted Ms. Paton and got the "fake" cover art to share with you too. It made me do a double take and then made me laugh. Thanks, Ms. Paton, for letting me share it.
Fake Cover
Can they make trailblazing and homemaking fit, or is love just another gender stereotype?
Audrey broke the glass ceiling.
Reece swapped a blue collar for a pink collar job.
She's a single mum by design. He's a nanny by choice.
She gets passed over for promotion. He struggles to find a job.
She takes a chance on him. He's worth more than he knows.
There's an imbalance of power. There's an age difference.
There's a child whose favourite word is no.
Everything about them being together is unsuitable.
Except for love.
***
Thanks to
Reading the Past
and Amy Johnson, whom I've mentioned before, I found out one of my favorite authors has a book releasing end of this year.
The Conqueror's Wife by Stephanie Thornton
. I've featured both
Daughter of the Gods
and
The Tiger Queens
on the blog.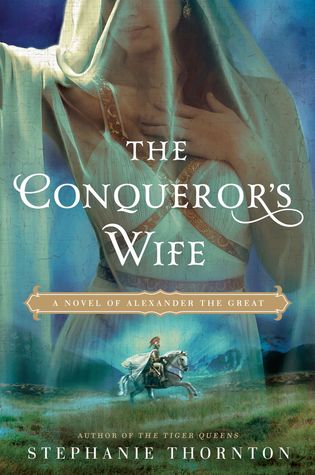 We are the women who loved Alexander the Great. We were lovers and murderers, innocents and soldiers.
And without us, Alexander would have been only a man.
Instead he was a god.
330s, B.C.E., Greece: Alexander, a handsome young warrior of Macedon, begins his quest to conquer the ancient world. But he cannot ascend to power, and keep it, without the women who help to shape his destiny.
His spirited younger half-sister, Thessalonike, yearns to join her brother and see the world. Instead, it is Alexander's boyhood companion who rides with him into war while Thessalonike remains behind. Far away, crafty princess Drypetis will not stand idly by as Alexander topples her father from Persia's throne. And after Alexander conquers her tiny kingdom, Roxana, the beautiful and cunning daughter of a minor noble, wins Alexander's heart…and will commit any crime to secure her place at his side.
Within a few short years, Alexander controls an empire more vast than the civilized world has ever known. But his victories are tarnished by losses on the battlefield and treachery among his inner circle. And long after Alexander is gone, the women who are his champions, wives, and enemies will fight to claim his legacy…
***
The same blog also has informed me of
Beatriz William
's upcoming release:
Tiny Little Thing
. Why I'm interested? I really liked
The Secret Life of Violet Grant
.
In the summer of 1966, Christina Hardcastle—"Tiny" to her illustrious family—stands on the brink of a breathtaking future. Of the three Schuyler sisters, she's the one raised to marry a man destined for leadership, and with her elegance and impeccable style, she presents a perfect camera-ready image in the dawning age of television politics. Together she and her husband, Frank, make the ultimate power couple: intelligent, rich, and impossibly attractive. It seems nothing can stop Frank from rising to national office, and he's got his sights set on a senate seat in November.
But as the season gets underway at the family estate on Cape Cod, three unwelcome visitors appear in Tiny's perfect life: her volatile sister Pepper, an envelope containing an incriminating photograph, and the intimidating figure of Frank's cousin Vietnam-war hero Caspian, who knows more about Tiny's rich inner life than anyone else. As she struggles to maintain the glossy façade on which the Hardcastle family's ambitions are built, Tiny begins to suspect that Frank is hiding a reckless entanglement of his own…one that may unravel both her own ordered life and her husband's promising career.