What hit the wishlist this week? Let's see...
Spotted on
HFVBT
:
A Decent Woman by Eleanor Parker Sapia
. Why? The Puerto Rico setting, due to my own PR heritage. PR historicals are few and far between.
1900 Puerto Rico: Set against the combustive backdrop of a chauvinistic society, where women are treated as possessions, A Decent Woman is the provocative story of two women as they battle for their dignity and for love against the pain of betrayal and social change.
***
I've been seeing this one "everywhere", everywhere meaning Shelf Awareness, Netgalley, etc. It's caught my interest. Letters to the Lost by Iona Grey. (I'm a Sarah Jio fan too.)
A beautifully written and evocative novel—the story of an impossible, unstoppable love affair set in London during World War II and the present day
An accomplished novel from a talented writer, Letters to the Lost is the kind of love story that will sweep you away from the very first page. Iona Grey's prose is warm, evocative, and immediately engaging; her characters become so real you can't bear to let them go.
Late on a frozen February evening, a young woman is running through the streets of London. Having fled from her abusive boyfriend and with nowhere to go, Jess stumbles onto a forgotten lane where a small, clearly unlived in old house offers her best chance of shelter for the night. The next morning, a mysterious letter arrives and when she can't help but open it, she finds herself drawn inexorably into the story of two lovers from another time.
In London 1942, Stella meets Dan, a US airman, quite by accident, but there is no denying the impossible, unstoppable love that draws them together. Dan is a B-17 pilot flying his bomber into Europe from a British airbase; his odds of survival at one in five. The odds are stacked against the pair; the one thing they hold onto is the letters they write to each other. Fate is unkind and they are separated by decades and continents. In the present, Jess becomes determined to find out what happened to them. Her hope—inspired by a love so powerful it spans a lifetime—will lead her to find a startling redemption in her own life in a powerfully moving novel perfect for fans of Sarah Jio and Kate Morton.
***
I'm curious about Demuth by Edward Bristol after a post about it on Historical Editorial.
Germany, 1499
Orphaned as a child and solitary by nature, the young and beautiful Demuth has nevertheless managed to carve out a successful living for herself as a village healer. But as the Renaissance dawns over Europe, shaking the foundations of medieval society with radical new ideas about freedom and science, Demuth's position grows tenuous. The protection of the master of the castle overshadowing her village is the only thing standing between her and the superstitious fear of the villagers who condemn her even as they avail themselves of her services. But when she is falsely accused of a heinous crime and branded as a witch, even the master can no longer keep her safe. Demuth is forced to flee for her life with her only friend, her loyal Viking dog, Hal, and her only solace—and addiction—opium.
Disguised as a mute shepherd boy, Demuth seeks safety with her only living relative in the big city of Cologne, but she arrives to discover soldiers are already there looking for her. With no choice other than to keep moving, she is aided by the kindness of strangers and embarks on a harrowing journey to seek shelter in a far-off abbey. Pursued by the grand duke's soldiers, beset by mishaps and tragedy, saved in her darkest hour by a mysterious hermit, Demuth's fight for survival forces her to examine her own choices, and to determine if she has the strength and the courage to embrace a future she never imagined possible.
Edward Bristol's historical fiction debut, Demuth, is the timeless story of a young woman's struggle to find her place in a shifting world filled with prejudice, fear, and persecution, yet also capable of acceptance and understanding, and ultimately, love.
***
Girl Waits with Gun by Amy Stewart
, spotted on Edelweiss and on my wishlist.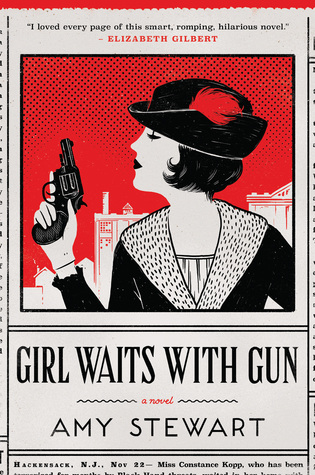 From the New York Times best-selling author of The Drunken Botanist comes an enthralling novel based on the forgotten true story of one of the nation's first female deputy sheriffs.
Constance Kopp doesn't quite fit the mold. She towers over most men, has no interest in marriage or domestic affairs, and has been isolated from the world since a family secret sent her and her sisters into hiding fifteen years ago. One day a belligerent and powerful silk factory owner runs down their buggy, and a dispute over damages turns into a war of bricks, bullets, and threats as he unleashes his gang on their family farm. When the sheriff enlists her help in convicting the men, Constance is forced to confront her past and defend her family — and she does it in a way that few women of 1914 would have dared.