I really liked
Rose Under Fire
by Elizabeth Wein.
Black Dove, White Raven
seemed like it would be unusual because Wein's young pilots grew into maturity in Ethiopia. It was unusual all right. It nearly ripped my heart out.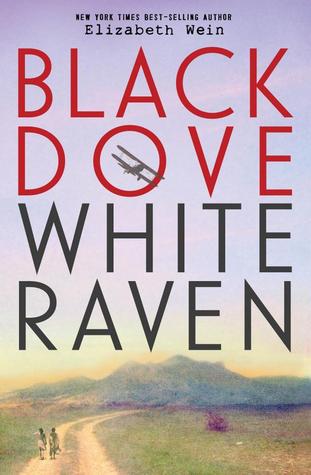 Rhoda Menotti and Delia Dupré were stunt pilots who performed together in the U.S. in the 1930's. They had to perform for white only audiences because the venues were all segregated. African-American Delia became involved with an Ethiopian pilot in Paris and gave birth to a son. She wanted her son to be raised in an environment where he wouldn't be considered inferior because of his race, and intended to take him to Ethiopia. Rhoda was offended by their segregated shows, but Delia insisted that they had to take any money they could get. She wanted to earn enough to live in Ethiopia, so that her son could be free of American racism.
When Delia died in a tragic accident, Rhoda honored her friend's intentions for her son. She went to live in Ethiopia with Delia's son, Teo and her own daughter, Emilia. I admired and respected Rhoda for her loyalty to Delia's memory, and for treating Teo as part of her family. Rhoda was a credit to her Quaker background. She used her piloting skills to help people in Ethiopia.
Ethiopia in the 1930's was no utopia. There was a nightmare at the heart of Ethiopian society from which it had yet to awaken. Teo was caught up in that nightmare. He was trained to be a pilot and became quite accomplished. When he was sixteen his life took a terrible turn that Delia would never have anticipated. I wept for Teo. His mother wouldn't have even considered bringing Teo to Ethiopia if it had occurred to her that such a thing could happen to him.
Rhoda's daughter Emilia also learned to fly as a teenager, but the drama of this book centered on Teo. Emilia was better at navigation than at flying. She didn't actually enjoy flying which I found disappointing. Yet she was intelligent, resourceful and immensely loyal to Teo.
I was captured by the originality and intensity of
Black Dove, White Raven
until Rhoda's husband, an Italian military pilot, did something that I considered unbelievable. It was against military regulations and wasn't consistent with the love and concern with which he had previously treated his daughter, Emilia. So it was both implausible and reprehensible. The spell that Elizabeth Wein had woven was broken for me at that point.
For most of this book, I thought it was the best novel that I'd read in the first half of 2015, but the out of character behavior of Orsino Menotti, Rhoda's husband, was significant. So I felt that I had to deduct one bike from my rating.