Spotted on NG and as I really enjoyed her Drowning Guard, I'm looking forward to this one:
Linda Lafferty's The Shepherdess of Siena
.
Raised by her aunt and uncle amidst the rolling hills of the Tuscan countryside, young orphan Virginia Tacci has always harbored a deep love for horses—though she knows she may never have the chance to ride. As a shepherdess in sixteenth-century Italy, Virginia's possibilities are doubly limited by her peasant class and her gender. Yet while she tends her flock, Virginia is captivated by the daring equestrian feats of the high-spirited Isabella de' Medici, who rides with the strength and courage of any man, much to the horror of her brother, the tyrannical Gran Duca Francesco de' Medici.
Inspired, the young shepherdess keeps one dream close to her heart: to race in Siena's Palio. Twenty-six years after Florence captured Siena, Virginia's defiance will rally the broken spirit of the Senese people and threaten the pernicious reign of the Gran Duca. Bringing alive the rich history of one of Tuscany's most famed cities, this lush, captivating saga draws an illuminating portrait of one girl with an unbreakable spirit.
***
An "oldie" but hit my radar only just now. Havana Heat by Darryl Brock. Not about a woman, but about a deaf baseball player.
A former star hurler for John McGraw's brawling Giants, Luther "Dummy" Taylor was also one of Major League Baseball's first deaf players. Havana Heat follows Taylor's life and fortunes when, after a strong season in the bushes in 1911, he comes to believe that he has one last shot at returning to his old dream.
He works his thirty-six-year-old arm into shape by pitching to his brother in the evenings and, after wrestling with the decision to leave his wife to pursue his dream, becomes determined to hunt down McGraw and ask for another chance.
Allowed to accompany the Giants on a barnstorming trip to Cuba, Taylor gets far more than he has bargained for as he faces the renowned Havana teams and a profound challenge thrust upon him by a deaf Cuban youngster. During quieter moments in the trip's turbulent course, Taylor takes a long look at his career, his marriage, and his life. As he meets unexpected trials on the island, Taylor gains insight into what he can still offer the world besides his pitching arm.
***
Penned by a friend of mine and just published: Eleven Miles by Lance Greenfield sounds promising.
How far would you have walked to gain your high school education?
From an early age, the greatest passion in Boitumelo Tumelo's life is learning. Boi, as she is known to her friends and family, just loves going to school. Her primary school is in the local village, but when she graduates to secondary school, two obstacles stand in the path to her further education. Firstly, there are fees to be paid. Secondly, it is eleven miles to the nearest secondary school. She would have to get up very early, and walk that long distance to school every day, and walk home after school. There are many potential dangers along the remote African track between her village and her school.
This is the inspiring story of how Boi overcomes the obstacles and dangers to gain the education that she so desires. Not only does she achieve her ambitions, but she manages to make life better for the children of her village who wish to follow in her footsteps.
***
Spotted on NG:
Doctor Death by Lene Kaaberbøl.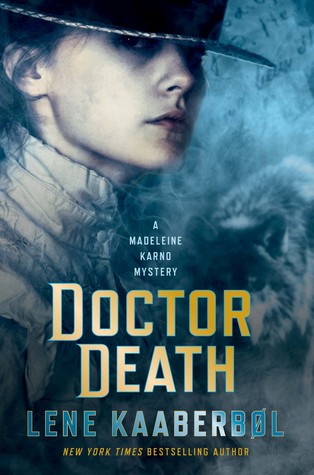 From the New York Times bestselling coauthor of The Boy in the Suitcase, a gripping historical thriller and poignant coming-of-age story set in nineteenth-century France.
Madeleine Karno is an ambitious young woman eager to shatter the confines of her provincial French town. Driven and strong headed, Madeleine is set apart by her unusual occupation: assisting her father, Dr. Albert Karno, in his job as a forensic doctor.
The year is 1894, and a young girl is found dead on the snowy streets of Varbourg. Dr. Karno is called in to determine the cause of her death, but before he can examine the body, the girl's family forbids the autopsy from taking place. The only anomaly he manages to find is in the form of a mite in her nostril. Shortly after, several other dead bodies are discovered throughout the city, and Madeleine, her father, and the city commissioner must use the new science of forensic evidence to solve the mysterious cases before they all become the next victims of a deadly disease—or of a heinous murderer.