What hit the wishlist/radar these last two weeks?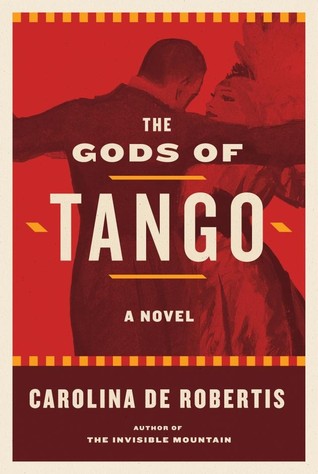 Spotted on Edelweiss and right up my alley...
The Gods of Tango: A novel by Carolina De Robertis
.
From one of the leading lights of contemporary Latin American literature—a lush, lyrical, deeply moving story of a young woman whose passion for the early sounds of tango becomes a force of profound and unexpected change.
February 1913: seventeen-year-old Leda, carrying only a small trunk and her father's cherished violin, leaves her Italian village for a new home, and a new husband, in Argentina. Arriving in Buenos Aires, she discovers that he has been killed, but she remains: living in a tenement, without friends or family, on the brink of destitution. Still, she is seduced by the music that underscores life in the city: tango, born from lower-class immigrant voices, now the illicit, scandalous dance of brothels and cabarets. Leda eventually acts on a long-held desire to master the violin, knowing that she can never play in public as a woman. She cuts off her hair, binds her breasts, and becomes "Dante," a young man who joins a troupe of tango musicians bent on conquering the salons of high society. Now, gradually, the lines between Leda and Dante begin to blur, and feelings that she has long kept suppressed reveal themselves, jeopardizing not only her musical career, but her life.
Richly evocative of place and time, its prose suffused with the rhythms of the tango, its narrative at once resonant and gripping, this is De Robertis's most accomplished novel yet.
***
Spotted on Shelf Awareness. I dunno how in the heck I missed it on Netgalley. I'm so disappointed that I did... This one hit the wishlist for sure:
Cattle Kate by Jana Bommersbach
. It has four of my absolute favorite ingredients: historical, mystery, woman who really existed, strong woman.
Ella Watson is the only woman to be lynched in the nation as a cattle rustler. She and her husband were hanged on July 20, 1889, by prominent cattlemen. History portrays the lynching as a case of "range land justice," with "Cattle Kate" tarred as both a notorious rustler and a filthy whore. Is this sordid story true?
It was all a lie. She wasn't a rustler. She wasn't a whore. She was a 28-year-old immigrant homesteader murdered by her rich and powerful Wyoming cattle-baron neighbors who wanted the land and its precious water rights she'd refused to sell. She was never called "Cattle Kate" until she was dead and they needed an excuse to cover up their crime.
Some people knew the truth from the start. Their voices were drowned out by the all-powerful Wyoming Stock Growers Association. And those who dared speak out—including the eye witnesses to the hangings—either disappeared or mysteriously died. There was no one left to testify against the vigilantes when the case eventually came to trial, so it was dismissed. Her six killers walked away scot-free.
Dozens of books, movies, too, spread her ugly legacy. Now, on the 125th anniversary of her murder, Ella comes alive again in the novel Cattle Kate to tell her heartbreaking story, one central to the western experience.
***
Spotted on Amazon while doing my monthly women in aviation search,
Blue Moon Rises by Betty Halstead Moss
hit the radar. I believe it's about a woman who joins the ATA.
BLUE MOON RISES is the second in a series of stories set in East Texas in the 1930s and 40s. It continues the story of the Hamilton women. Julia Marie, the fifth generation, bears the physical resemblance and unique characteristics of her ancestors. However, her ambitions and life goals are very different. Julie loses her heart at a young age to a young, ambitious Texas Ranger who is dedicated to his career. WWII interrupts life in the early forties and charts the course of the nation's youth. Chris and Julie face formidable choices and unimagined challenges as they journey through the war years. Laced with adventure and unconditional love, their story is sometimes sad, sometimes joyous, but always exciting and unpredictable.