Because I love a good historical mystery:
Secrets of Sloane House by Shelley Gray.
One woman's search for the truth of her sister's disappearance leads her to deceit and danger in 1893 Chicago.
Rosalind Perry has left her family's rural farm in Wisconsin to work as a housemaid at Sloane House, one of the most elegant mansions in Gilded Age Chicago. However, Rosalind is not there just to earn a living and support her family-she's at Sloane House determined to discover the truth about her sister's mysterious disappearance.
Reid Armstrong is the handsome heir to a silver fortune. However, his family is on the periphery of Chicago's elite because their wealth comes from "new money" obtained from successful mining. Marriage to Veronica Sloane would secure his family's position in society-the lifelong dream of his ailing father.
When Reid begins to realize that Rosalind's life may be in danger, he stops thinking of marriage prospects and concentrates on helping Rosalind. Dark things are afoot in Chicago and, he fears, in Sloane House. If he's not vigilant, Rosalind could pay the price.
Set against the backdrop of Chicago's Gilded Age and the 1893 World's Fair, Secrets of Sloane House takes us on a whirlwind journey of romance and mystery.
***
Spotted on GR Giveaways,
Bandita Bonita by Nicole Maddalo Dixon
made the list.
Precocious, spirited, bored, and outspoken, sixteen year old Elucia (Lucy) Grey Alexis Howard, is both out-of-place in and a prisoner of her wealthy life amongst the highest of New York's social elite and her father's ambitious pursuit of greater prosperity. Sent out west in 1877 to Lincoln County, New Mexico, to marry her pre-contracted fiance, John H. Tunstall, Lucy is inconsolable at the prospect of a loveless marriage when she meets and falls in love with pistoleer, Billy Bonney, a young, vivacious firebrand hired by John to work his land and provide protection from the dangers posed by John's nefarious competitor, J. J. Dolan and the entire Santa Fe Ring. When John pays the ultimate price and is murdered, refusing to succumb to the opposition and intimidation of his rivals, Lucy's own life is then in jeopardy. As a result of John's death, Billy and the other men working in John's employment are deputized to combat the tyranny of Dolan and the Ring. Fearing for Lucy, the newly deputized Lincoln County Regulators take her into their protective guard and into the hellfire of what becomes known as the Lincoln County War, the catalyst that inspires Lucy to wage her own personal war for freedom from her oppressive life and a desperate attempt to stay close to the man she loves, the boy about to become known to history as the incendiary notorious outlaw, Billy the Kid. Includes Readers Guide. NICOLE MADDALO DIXON was born in Philadelphia and raised in Bucks County, Pennsylvania where she lives with her husband, Wallace.
***
Spotted on GR Giveaways,
Wolfsangel by Liza Perrat
has caught my attention.
Seven decades after German troops march into her village, Céleste Roussel is still unable to assuage her guilt.
1943. German soldiers occupy provincial Lucie-sur-Vionne, and as the villagers pursue treacherous schemes to deceive and swindle the enemy, Céleste embarks on her own perilous mission as her passion for a Reich officer flourishes.
When her loved ones are deported to concentration camps, Céleste is drawn into the vortex of this monumental conflict, and the adventure and danger of French Resistance collaboration.
As she confronts the harrowing truths of the Second World War's darkest years, Céleste is forced to choose: pursue her love for the German officer, or answer General de Gaulle's call to fight for France.
Her fate suspended on the fraying thread of her will, Celeste gains strength from the angel talisman bequeathed to her through her lineage of healer kinswomen. But the decision she makes will shadow the remainder of her days.
A woman's unforgettable journey to help liberate Occupied France, Wolfsangel is a stirring portrayal of the courage and resilience of the human mind, body and spirit.
***
Also spotted on GR,
Island of a Thousand Springs by Sara Lark
.
London, 1732: Nora Reed, the daughter of a merchant, falls hopelessly in love with her father's clerk, Simon. Despite their differing social class, the star-crossed lovers dream of a future on a tropical island - until tragedy strikes, and Nora must face a life without her soulmate. Hopeless, Nora enters a marriage of convenience with Elias Fortnam, a widower and sugar planter in Jamaica. Even without Simon, she is determined to somehow fulfill their tropical fantasy. But life in the Caribbean doesn't turn out as Nora had dreamt.
Nora is deeply shocked by the way plantation owners treat the slaves and decides to shake things up on her own sugar cane plantation - for the better. Surprisingly, her adult stepson Doug supports her in this endeavor when he arrives from Europe. However, his return also puts things into a state of turmoil - especially Nora's feelings.
Just as Nora seems to be settling into her role as lady of the house, one harrowing event rips everything from her but her life...
A gripping tale of love and hate, trust and betrayal, and a thrilling destiny set against the pristine beaches and swaying palmtrees of the tropics.
***
I love old movies, historical mysteries, and this just plain sounds good.
No Broken Hearts by Sheila York
, spotted on GR Giveaways, hit the wishlist.
Promised her first screen credit in years by Marathon Studios, script doctor Lauren Atwill is promptly loaned out to second-tier Epic Pictures. And she's not happy. Are Marathon's bosses spooked by the grapevine gossip that bodies fall whenever she signs onto a picture? Her first Epic assignment electrifies her: Bring a scandalous novel to the screen, a story of betrayal, greed, corruption and a brutal killing. Then fiction turns into real life. Lauren finds a murdered girl, and discovers how far the studio and even the police will go to cover up the killing and protect a star. If she won't lie, her career is over. And maybe her life. In Hollywood, telling the truth is the most dangerous thing you can do.
***
And spotted on Edelweiss, Diamond Head by Cecily Wong.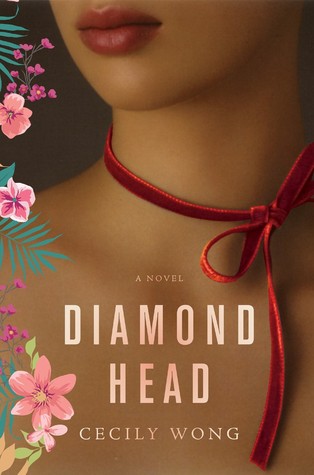 At the turn of the nineteenth-century, Frank Leong, a fabulously wealthy shipping industrialist, moves his family from China to the island of Oahu. But something ancient follows the Leongs to Hawaii, haunting them. The parable of the red string of fate, the cord which binds one intended beloved to her perfect match, also punishes for mistakes in love, passing a destructive knot down the family line.
When Frank is murdered, his family is thrown into a perilous downward spiral. Left to rebuild in their patriarch's shadow, the surviving members of the Leong family try their hand at a new, ordinary life, vowing to bury their gilded past. Still, the island continues to whisper—fragmented pieces of truth and chatter, until a letter arrives two decades later, carrying a confession that shatters the family even further.
Now the Leong's survival rests with young Theresa, Frank Leong's only grandchild, eighteen and pregnant, the heir apparent to her ancestors' punishing knots.
Told through the eyes of the Leong's secret-keeping daughters and wives and spanning The Boxer Rebellion to Pearl Harbor to 1960s Hawaii, Diamond Head is a breathtakingly powerful tale of tragic love, shocking lies, poignant compromise, aching loss, heroic acts of sacrifice and, miraculous hope.