Spotted on Edelweiss,
Backlands by Victoria Shorr
made the wishlist.
Backlands tells the epic, historically based story of a group of indigenous, nomadic outlaws who rode through the backlands of Brazil from around 1922 until 1938. Led by the one-eyed bandit Lampiao and his lover Maria Bonita still folk heroes to this day the bandits marched across the vast, open reaches of their dry, desolate, starkly beautiful landscape, taking from the rich, entertaining the poor, controlling an area roughly the size of France, and fighting off all the police and soldiers the region could muster.
Lampiao had everything brains, money, power, charisma, and luck. Everything but love, until he met Maria Bonita. Together they would become the most wanted people in Brazil, maintaining their freedom through cunning. This vividly rendered work of historical fiction chronicles the reign and eventual betrayal of a band of romantic outlaws living a near-impossible existence."
***
Also an Edelweiss spotting:
Orphan Number Eight by Kim Van Alkemade
.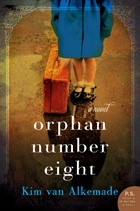 A stunning debut novel in the vein of Sarah Waters' historical fiction and inspired by true events, it tells the fascinating story of a woman who must choose between revenge and mercy when she encounters the doctor who subjected her to dangerous medical experiments in a New York City Jewish orphanage.
In 1919, Rachel Rabinowitz is a vivacious four-year-old living with her family in a crowded tenement on New York City's Lower Eastside. When tragedy strikes, Rachel is separated from her brother Sam and sent to a Jewish orphanage where Dr. Mildred Solomon is conducting medical research. Subjected to X-ray treatments that leave her disfigured, Rachel suffers years of cruel harassment from the other orphans. But when she turns fifteen, she runs away to Colorado hoping to find the brother she lost and discovers a family she never knew she had.
Though Rachel believes she's shut out her painful childhood memories, years later she is confronted with her dark past when she becomes a nurse at Manhattan's Old Hebrews Home and her patient is none other than the elderly, cancer-stricken Dr. Solomon. Rachel becomes obsessed with making Dr. Solomon acknowledge, and pay for, her wrongdoing. But each passing hour Rachel spends with the old doctor reveal to Rachel the complexities of her own nature. She realizes that a person's fate—to be one who inflicts harm or one who heals—is not always set in stone.
Lush in historical detail, rich in atmosphere and based on true events,Orphan #8 is a powerful, affecting novel of the unexpected choices we are compelled to make that can shape our destinies.
***
Learned about on Amazon Vine:
Sisters of Heart and Snow by Margaret Dilloway
.
Rachel and Drew Snow may be sisters, but their lives have followed completely different paths.
Married to a wonderful man and is a mother to two strong-minded teens, Rachel hasn't returned to her childhood home since being kicked out by her strict father after an act of careless teenage rebellion. Drew, her younger sister, followed her passion for music but takes side jobs to make ends meet and longs for the stability that has always eluded her. Both sisters recall how close they were, but the distance between them seems more than they can bridge. When their deferential Japanese mother, Haruki, is diagnosed with dementia and gives Rachel power of attorney, Rachel's domineering father, Killian becomes enraged.
In a rare moment of lucidity, Haruki asks Rachel for a book in her sewing room, and Rachel enlists her sister's help in the search. The book—which tells the tale of real-life female samurai Tomoe Gozen, an epic saga of love, loss, and conflict during twelfth-century Japan—reveals truths about Drew and Rachel's relationship that resonate across the centuries, connecting them in ways that turn their differences into assets.
***
Spotted on NG and sure wish they'd allow American reviewers to have a go. Urgh.
A War of Flowers by Jane Thynne
.
August, 1938. Paris is a city living on its nerves and the threat of war hangs heavy as a distant thunderstorm on a summer's day.
British actress, Clara Vine, is in Paris to film her latest movie, having left Berlin under a cloud. Joseph Goebbels has become increasingly suspicious that Clara has been mingling in Berlin society and passing snippets of information to her contacts in the British Embassy. It would have been absurd, if it hadn't also been true…
With war becoming increasingly likely, Clara is approached by an undercover British operative, Guy Hamilton, who asks her to perform a task for her country: to befriend Eva Braun, Hitler's girlfriend, and to pass on any information she can gather.
Clara knows that to undertake this task is to put herself back in danger. But she also knows that soon she may have to do everything in her power to protect her country…
***
Another mystery made the list when I saw it on GR Giveaways.
Second Street Station by Lawrence H. Levy
.
A historical mystery featuring the witty and wily Mary Handley, the first woman detective in Brooklyn, as she tries to prove herself in a man's world while solving a high profile murder.
Mary Handley is a not your typical late-nineteenth century lady. She's fiery, clever, daring—and she's not about to conform to the gender norms of the day. Not long after being fired from her job at the hat factory for insubordinate behavior, Mary finds herself at the murder scene of Charles Goodrich, the brother of a prominent alderman and former bookkeeper of Thomas Edison. When Mary proves her acumen as a sleuth, she is hired by the Brooklyn police department—as the city's first female policewoman—to solve the crime. The top brass of the department expect her to fail, but Mary has other plans. As she delves into the mystery, she finds herself questioning the likes of J. P. Morgan, Thomas Edison, and Nikola Tesla. Mary soon discovers the key to solving the case goes well beyond finding a murderer and depends on her ability to unearth the machinations of the city's most prominent and respected public figures, men who will go to great lengths to protect their secrets.
Much like Mr. Churchill's Secretary and Maisie Dobbs, Second Street Station presents a portrait of a world plunging into modernity through the eyes of a clever female sleuth. Mary Handley is an unforgettable protagonist whose wit, humor, and charm will delight readers from the very first page.
***
Caught my interest. Spotted on Edelweiss.
The Sacred Lies of Minnow Bly by Stephanie Oakes
.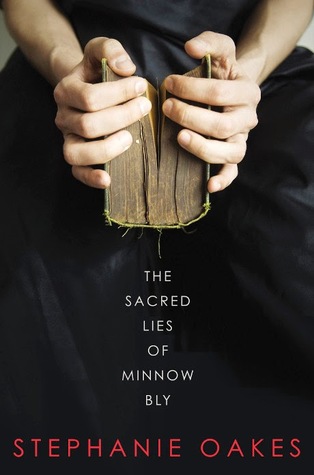 When seventeen-year-old Minnow stumbles out of the woods one winter morning, she is haunted and handless and covered in someone else's blood. She has just escaped the strict religious commune run by a cruel man named the Prophet. In exchange for freedom, she leaves behind her family, her home, and Jude--an outsider boy who changed everything.
But the real world isn't the sanctuary Minnow imagined. Soon, she gets arrested and placed in juvenile detention. Now, Minnow is being questioned by an FBI psychiatrist about the night she escaped, the same night the Prophet was burned to death in his own home—a murder Minnow may be responsible for.
A modern retelling of the Grimm fairy tale, "The Handless Maiden," in which the Devil orders a girl's hands cut off, The Sacred Lies of Minnow Bly is the story of a girl growing out of the wreckage of corrupted faith.