What hit the radar and wishlist this week? Let's see....Spotted on GR giveaways,
When the Dawn Breaks by Emma Fraser
came to my attention.
Two women. One secret. A heart-breaking choice. Skye, 1903. Jessie, the young daughter of a local midwife, is determined to become a nurse one day, but family loss and heartache jeopardise her dreams. Isabel, the doctor's daughter, is planning to follow in her father's footsteps - even though medicine is not considered a fitting career for a woman. And then there's Archie, Jessie's older brother, who Isabel just can't stay away from. Following an unsettling encounter in the woods, Archie disappears, and all their lives are irrevocably changed ...Years later, Isabel is a qualified doctor and Jessie is a nurse and when their paths cross again, neither is certain what the other woman knows about that fateful day. But when war breaks out and they find themselves working shoulder to shoulder, they have no option but to confront all they have kept hidden. Taking in Skye and Edinburgh, France and Serbia, When the Dawn Breaks is a sweeping wartime story of two determined women and the dark secret that will bind them forever ...
***
Spotted on
Reading the Past
, I also wish to read
The Vintner's Daughter by Kristen Harnisch
.
A captivating historical-fiction debut: ambition, betrayal and love take a spirited young woman from the verdant Loire Valley to turn-of-the-century Manhattan to the wide open spaces of California wine country
Loire Valley, 1895. When seventeen-year-old Sara Thibault's father is killed in a mudslide, her mother sells their vineyard to a rival family, whose eldest son marries Sara's sister, Lydia. But a violent tragedy compels Sara and her sister to flee to New York, forcing Sara to put aside her dream to follow in her father's footsteps as a master winemaker.
Meanwhile, Philippe Lemieux has arrived in California with the ambition of owning the largest vineyard in Napa by 1900. When he receives word of his brother's death in France, he resolves to bring the killer to justice. Sara has travelled to California in hopes of making her own way in the winemaking world. When she encounters Philippe in a Napa vineyard, they are instantly drawn to one another, but Sara knows he is the one man who could return her family's vineyard to her, or send her straight to the guillotine.
A riveting, romantic tale of betrayal, retribution, love and redemption, Kristen Harnisch's debut novel immerses readers in the rich vineyard culture of both the Old and New Worlds, the burgeoning cities of turn-of-the-century America and a spirited heroine's fight to determine her destiny.
***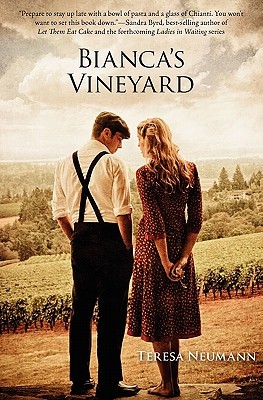 Another vineyard tale,
Bianca's Vineyard by Teresa Neumann
is on the wishlist.
Bianca Corrotti's vineyard is more than a piece of mouth-watering real estate in Tuscany. It's an inheritance; a storehouse harboring the secrets of her Uncle Egisto, a world-class sculptor, and his troubled wife -- a woman whose destiny converges with Mussolini's when WWII overtakes them all. Based on a true story, Bianca's Vineyard follows a devoted family of strong-willed men and lion-hearted women waging an epic battle against a gathering storm intent on destroying their lives.