Spotted on Goodreads Giveaways and on my wishlist:
The Dragonfly Saga, Book 1: Empress of Canton
by Juliann Troi
.
China, 1923: An ancient land, once gloriously majestic, is now a nation torn and bleeding, slowly being blown to pieces by revolution. Ruthless warlords have overthrown the divine Imperial system and claimed dominion, carving the country up to satisfy their own selfish designs. Political intrigue and betrayal are the only rulers now. Caught between two warring factions during an invasion of Canton and taken prisoner, Kathryn Hopewell's life hangs in the balance. Witness to the proceedings, Ty Wang must make an impossible choice: to save Kathryn will cost him his life, to let her die could mean the death of his beloved homeland. Bound together by a love as strong as it is forbidden, Ty and Kathryn must overcome impossible odds and boldly embrace a great and terrible purpose that could ultimately change the fate of a nation ... and destroy them both.
***
Spotted on NG,
All Good Women by Valerie Miner
.
As World War II rages abroad, a group of women forge the bonds of sisterhood in AmericaIn 1938, while tensions in Europe are reaching a boiling point, four young women with big ambitions enter secretarial school in San Francisco. Motivated to attain the financial stability that eluded their parents, they go to battle for their futures. Moira, of Scottish descent, dreams of being an actress. Ann yearns for the education her Jewish immigrant parents provided for her brother, but not for her. Japanese American Wanda experiences firsthand the racial injustices running rampant in the United States. And Teddy, who left the Dust Bowl for sunny California, comes to startling realizations about herself as the war progresses. These women will be both buoyed and challenged by their dreams, experiencing love, loss, and everything in between. Against the backdrop of a nation gripped by fear and paranoia, Miner eloquently captures the spirit of wartime on the home front.
***
Another GR Giveaway and on my wishlist:
The Crescent: Victory Over Adversity by Cynthia Vespia
.
In a violent time where respect was taken at the tip of a sword, and gladiators were the rockstars of their era, two women will stake their claim in a sport of death dominated by men to fulfill their respective destinies. Nadja the slave girl, as sensuous as she is savage, captured and forced into training to become a gladiator. She fights hard and well, intent on attaining a long sought freedom. Liza, the Queen, as passionate as she is powerful, married into royalty but her adventurous spirit leads her down the path of the gladiator. Mindful of her husband, the King she shields her identity and fights in secrecy. Two goals, one victor. They are a parallel of ability and a paradox of style...who shall succeed?
***
Very, VERY excited about these two, as I've read these authors before and enjoyed their books very much:
Mademoiselle Chanel by C.W. Gortner
.
For readers of The Paris Wife and Z comes a vivid novel full of drama, passion, tragedy, and beauty that stunningly imagines the life of iconic fashion designer Coco Chanel—the ambitious, gifted laundrywoman's daughter who revolutionized fashion, built an international empire, and become one of the most influential and controversial figures of the twentieth century
Born into rural poverty, Gabrielle Chanel and her siblings are sent to orphanage after their mother's death. The sisters nurture Gabrielle's exceptional sewing skills, a talent that will propel the willful young woman into a life far removed from the drudgery of her childhood.
Transforming herself into Coco—a seamstress and sometime torch singer—the petite brunette burns with ambition, an incandescence that draws a wealthy gentleman who will become the love of her life. She immerses herself in his world of money and luxury, discovering a freedom that sparks her creativity. But it is only when her lover takes her to Paris that Coco discovers her destiny.
Rejecting the frilly, corseted silhouette of the past, her sleek, minimalist styles reflect the youthful ease and confidence of the 1920s modern woman. As Coco's reputation spreads, her couturier business explodes, taking her into rarefied society circles and bohemian salons. But her fame and fortune cannot save her from heartbreak as the years pass. And when Paris falls to the Nazis, Coco is forced to make choices that will haunt her.
An enthralling novel of an extraordinary woman who created the life she desired, Mademoiselle Chanel explores the inner world of a woman of staggering ambition whose strength, passion and artistic vision would become her trademark.
***
After the War is Over by Jennifer Robson
.
The USA Today and #1 Toronto Globe & Mail bestselling author of Somewhere in France returns with her sweeping second novel—a tale of class, love, and freedom reminiscent of Downton Abbey—in which a young woman must choose between her independence and the aristocrat she loves
With the Great War finally at an end, life must go on for those who have survived. Charlotte Brown witnessed the devastation war wrought as a nurse, but after the war she decides to resume her career as a social worker in Liverpool. There she helps others to better their lives, even as she struggles to forge a future of her own. Charlotte is fortunate to have friends old and new to guide her, including the women at her boarding house, her colleagues, and a radical young newspaper editor with romantic hopes.
But a chance encounter with Edward, her dearest friend's brother, pulls Charlotte back into the past. Once charming and infuriatingly arrogant, the new Earl of Cumberland has become another casualty of the war. Still, Charlotte sees the specter of the captivating man he once was, and she knows he could offer her a life far different from the one she has now. But being the wife of aristocrat comes with a price the independent young woman can't bear to pay.
As the country seethes with unrest, and post-war euphoria flattens into bitter disappointment, Charlotte must make an impossible choice: keep her freedom, or turn her back on the only man she has ever loved?
***
And oh, I have to read this!! It's not only about a highway woman and I love those...but narrated by a DEAF heroine! Must aquire. Stat! So on my wishlist.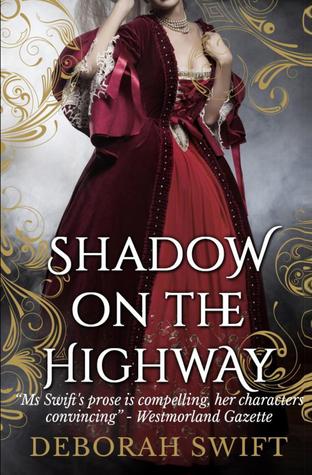 Shadow on the Highway
by Deborah Swift.
Abigail Chaplin has always been unable to find a position as a maidservant like other girls, because she is deaf. So why do the rich Fanshawes of Markyate Manor seem so anxious to employ her? And where exactly does her mistress, Lady Katherine, ride out to at night?
SHADOW ON THE HIGHWAY is based on the life and legend of Lady Katherine Fanshawe, the highwaywoman, sometimes known as The Wicked Lady. A tale of adventure and budding romance set in the turbulent English Civil War, this is a novel to delight teens and adults alike.