What I put on my wishlist this week and how I came across it...
Spotted on Historical Editorial, Battle Hymns by Cara Langston hit the wishlist/radar. If you are a fan of historical fiction with real stories, history, and just some overall depth, a reason for reading it, this is a great blog to follow. Ms. Jenny does either editing or cover art for said titles and I eagerly look forward to new announcements.

In December 1941, Charlotte Donahue is engaged to Nick Adler, a handsome, pre-law student at Georgetown University. Despite her studies at a liberal arts college, she expects nothing more than to marry her fiancé and settle into a conventional life as a young American homemaker. But her future is unexpectedly disrupted after the Japanese attack on Pearl Harbor. While Nick trains for the battlefront with the U.S. Army, Charlotte does her part by volunteering as a nurses' aide with the American Red Cross.

Assigned to a convalescent ward at Walter Reed's Army Medical Center, Charlotte discovers her passion lies, not in the home, but in tending to the wounds of injured soldiers, all of whom remind her of Nick. Here she is drawn to a mysterious soldier, Lieutenant William Kendrick, whose jet was shot down in the skies over Germany. As Will's physical and psychological wounds begin to heal, he and Charlotte develop a friendship that will bind them together in ways they never imagined.

Battle Hymns is a poignant story of love, survival, and redemption set against the backdrop of the Second World War.
Coming soon from Choc Lit Publishing, Monsoon Mists by Christina Courtenay. It's book three in a series and I loved the first two. How I found it? Browsing their website as I occasionally do to make sure I don't miss anything fabulous, like this one. :D
It's 1759 and Jamie Kinross has travelled far to escape his troubled past—from the pine forests of Sweden to the bustling streets of India.

In India he becomes a gem trader, but when his mentor's family are kidnapped as part of a criminal plot, he vows to save them and embarks on a dangerous mission to the city of Surat.

There he encounters Zarmina Miller a rich and beautiful widow whose haughtiness has earned her a nickname: "The Ice Widow". When they meet, Jamie is instantly tempted by the challenge she presents.

But when it becomes clear that Zarmina's step-son is involved in the criminal plot, Jamie begins to see another side to her—a dark past to rival his own and a heart just waiting to be thawed. But is it too late?

Monsoon Mists is the final in the series about the lives of the three Kinross men. The first was Trade Winds followed by Highland Storms. They can all be read as stand-alone novels.
Also spotted and releasing later this year, Zana Bell's Fool's Gold. I've read and really enjoyed two other titles by her, so I'll be nabbing this one as well.
It's 1866 and the gold rush is on. Left to fend for herself in the wilds of New Zealand's west coast, Lady Guinevere Stanhope is determined to do whatever it takes to rescue her ancestral home and restore her father's good name.

Forced out of his native Ireland, Fergus O'Donnell dreams of striking gold. His fiercely held prejudices make him loath to help any English person, let alone a lady as haughty and obstinate as Guinevere. But when a flash flood hits, Fergus is compelled to rescue her, and pass. But and their paths become entwined in this uncharted new world.

Though an intense attraction forms between them, both remain single-minded in pursuit of their dreams. Will they realize in time that all that glitters in not gold?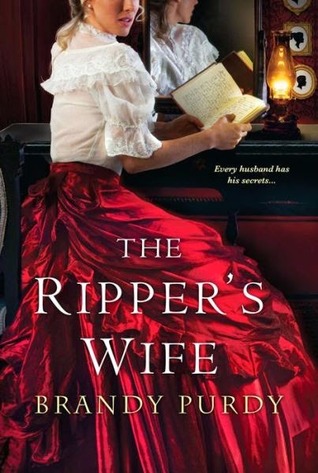 Spotted on Historical Fiction Virtual Book Tours, The Ripper's Wife by Brandy Purdy is now on the wishlist. What a different twist on Jack the Ripper...
It begins as a fairytale romance-a shipboard meeting in 1880 between vivacious Southern belle Florence Chandler and handsome English cotton broker James Maybrick. Courtship and a lavish wedding soon follow, and the couple settles into an affluent Liverpool suburb.
From the first, their marriage is doomed by lies. Florie, hardly the heiress her scheming mother portrayed, is treated as an outsider by fashionable English society. James's secrets are infinitely darker-he has a mistress, an arsenic addiction, and a vicious temper. But Florie has no inkling of her husband's depravity until she discovers his diary-and in it, a litany of bloody deeds...
***
Spotted on the same blog,
The Dance of the Spirits by Catherine Aerie
, hit the list. Why? I've read very few novels about the Korean War so that alone promises to be different, but it's also about a Chinese woman surgeon during this time period.
Spring 1951: it is the fiery zenith of the Korean War, a war that the youthful US Army lieutenant Wesley Palm and his men thought that they had won... until the Chinese swept across the Yalu River. Traveling with the million-man army bent on driving back the march of "American imperialism" is Jasmine Young, a Chinese surgeon who has volunteered herself into the war for unspoken, grave reasons. Through a chronicle of merciless battles, freezing winters, and the brutality and hypocrisy of human nature, the two will find themselves weaving through the twists and turns of fate and destiny. Though their love is forbidden, their passion and pursuit of liberty cannot be quenched.