Tara: Welcome. You're here to promote The Windsurf Girl, a Contemporary Romantic Fiction novel. Tell me, please, what was the inspiration behind this story? How did it come to you?
Readers, here's a blurb for you real quick: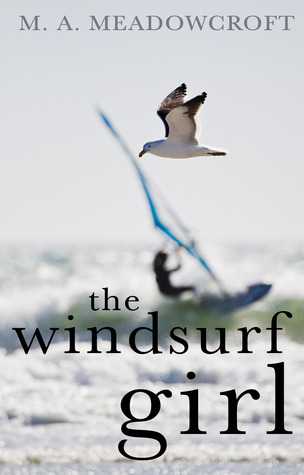 Fran is desperate to escape city life and her husband, who she suspects is having an affair. She flees with her little girl to a remote beach hut on the windswept shores of the Suffolk coast. When she is followed there by her brother, sister-in-law Annabel and the outrageously seductive Lydia, village life on the peaceful Suffolk marshes spirals into freefall.

While the locals are fighting their duels with each other and the London set, Fran rediscovers her passion for windsurfing through Tom, a windsurfer she watches out in the bay. But as she basks in the knowledge of his growing feelings for her, she is unaware of a long-hidden secret that is his bedfellow.

The story shifts between the hectic city and peaceful coast as Fran is thrown between both worlds. In London she is forced again into her husband's life of excess, with devastating consequences, and she finds herself drawn to the village of Warbleton and its colourful, quirky locals.

When Annabel discovers evidence of their husbands' corrupt dealings, the two women must take a gamble that could impact on the lives of everyone they hold dear in order to finally break free.

Inspired by authors from many eras and genres, The Windsurf Girl is a romantic tale with a fascinating heroine and an underlying theme of escapism. It will appeal to readers who enjoy a story of heartache, humour and hidden strengths.
M.A.: Time spent at my sister's beach hut started me thinking about writing a story set in that area (Suffolk). I met lots of interesting characters there, and the glorious coast and countryside is inspiration in itself. The joy and exhilaration that's experienced when windsurfing is incredible and so my main characters just had to love windsurfing!
Tara: We focus a lot on heroines here on Book Babe. Tell me what makes your heroine(s) strong.
M.A.: Fran is definitely a strong heroine but in a quiet unforceful way. She faces adversity with great fortitude when confronted with betrayal on many fronts. As her world falls apart she keeps it together for the sake of her little girl and eventually moves on fearlessly towards a new life.
Tara: Do you see any of yourself in her?
M.A.: Yes, there is a small part of myself that I see in Fran, which is being an incurable romantic!
Tara: What makes her sexy?
M.A.: Fran has a natural beauty which she is genuinely unaware of. This is incredibly attractive to men who don't always like blatant sexiness. Her love of nature and ability to lose herself in the joy of the moment are other qualities that create her appeal.
Tara: What kind of research did you do when you penned this novel? Did anything surprising come up in your search?
M.A.: Because the main part of my book is set in Suffolk and it is totally fictitious I had no need to do any serious research. I loved learning more about Dunwich, the town lost to the sea, which is briefly mentioned in my book, but I already knew a lot of the history of the area through spending so much time there. The scam that Fran and Annabel's husband were up to in the City needed a little research, but having worked in London for a few years I knew the basics of it. Not that anyone I knew did anything like that!
Tara: A town lost to the sea...ooh, that does sound intriguing.
What would you like readers to gain from reading your book? Is there a strong moral? Do you hope they will laugh, learn something, ponder a point?
M.A.: Ultimately I want my readers to go away feeling uplifted and happy, and if they are having any problems in their lives by reading my book they will feel better able to cope with them.
My novel is really a story of good against evil where the good characters outwit the baddies. It will definitely make people see how gratuitous self-indulgence and greed creates its own downfall.
I want anyone who seeks thrills and excitement to see these things can be found in windsurfing and kitesurfing or any challenging sport.
Beach Huts
Tara: Now let's talk about your hero. What draws the heroine to him? Is he based on a real man in your life by any chance?
M.A.: Tom is a free spirit and loves the outdoors, he enjoys few things more than windsurfing or walking over the wild marshes, or up into the mountains in his beloved Greece. Fran is naturally attracted to such a kindred spirit. It is more than this however that draws her to him. He is naturally kind, fun to be with and genuinely interested in her rather than himself as so many men are! He makes her laugh and is a sensitive passionate lover.
No, he is not based on a real man in my life but perhaps a mixture of one or two that have been!
Tara: Your book takes place in London and Suffolk. If I were a tourist, what would you recommend I see in this town/country?
M.A.: The coastal marsh and countryside in Suffolk is unspoilt and beautiful. There are several nature reserves and Special Sites of Scientific Interest. Minsmere nature reserve near Dunwich is home to some of the rarest endangered birds in the country and well worth a visit. Konik horses have been introduced to the marsh to graze and bring it back to its natural habitat and Dartmoor ponies roam free in the forest.
Notting Hill, where some of my characters live, is a fantastic part of the City with pubs down cobbled streets and fashionable restaurants.
Tara: A more personal question. What's the one thing you hope to accomplish before you die? Your main goal?
M.A.: I have been incredibly lucky and have accomplished many of the things I hoped to, but I know there will always more challenges and goals awaiting me, I am just waiting to see what, and that is what makes life exciting. I would love to become a successful author, create a wild flower meadow and swim with dolphins.
Dotty
Tara: I've swam with dolphins. It's an amazing experience! Now I feel bad, 'cause a part of me feels they shouldn't be in captivity, but then again, they're safe. *sigh* I wouldn't trade the experience for anything though.
I'm a dog mom, so I always ask this. Do you have pets? If so, tell me about them and do provide pictures.
M.A.: I have a horse called Shadow, a dog called Dotty, and Pedro the cat.
Shadow
I ride regularly and Dotty comes too. Being a sheep dog she is very intelligent and just stays behind my horse if we go onto the lanes. When I go out kitesurfing and windsurfing she runs up and down the sandy beach and sometimes comes out for a little swim to check that I'm ok!
Tara: Thanks so much for joining us today. Best of luck to you with your book and any titles that follow. I love the cover, by the way!
M. A. Meadowcroft worked for the Marketing Director of a large finance company in London before having four children. She did a correspondence course in journalism and has been published in Kent Life and Windsurf Magazine. After qualifying as a windsurfing instructor she set up Rye Watersports by the Kent/Sussex coast. She spends the summer at her centre and winters writing and going to windy part of the world to pursue her love of watersports. She lives in an old farmhouse on the edge of the Romney Marshes. The Windsurf Girl is her first novel.